Posts Tagged 'The Alexandria Quartet'
Sunday, July 23rd, 2017
When my husband, Morgan, and I were moving to Egypt in 1989, we read the Alexandria Quartet by Lawrence Durrell. The first book is Justine, after which the protagonist of the Justine Trilogy is named. Durrell captured the blend of metaphysics (complex world views) and human psychology so pertinent to this part of the story. It vividly describes Egypt in the late 30's and 40's, the time when the Brotherhood is becoming more directly active in politics. Two engagements are of particular interest.
The Brotherhood's most public venture into politics was involvement in the chasm between Palestine and Zionism. The organization raised money to support the worker revolt in Palestine. Many think of the conflict in Palestine as beginning with the 1948 sanctioning of statehood for Israel (a war to which the Brotherhood sent volunteers). Not so. It began in the 19th century with vast Jewish purchases of Palestinian lands. In The Cairo Codex we learn that Mary of Nazareth came from Palestine and finds pleasure in the freedoms she experiences in Egypt.
It is not surprising that Egyptians harbored strong sympathies for the Nazis during WWII. After all, they were being colonized by the British. And, anti-Semiticism was very strong. Hopeful that the war would bring the end to British colonization, the Brotherhood would have to wait for Nasser and the quiet revolution of 1952….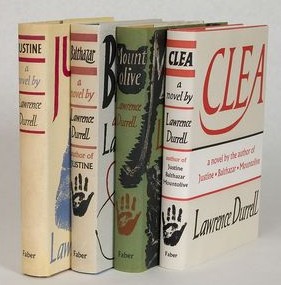 Tags: Lawrence Durrell, The Alexandria Quartet
Posted in Arab press, history, Muslim Brotherhood, political essay, The Justine Trilogy | No Comments » | Leave a Comment