Italian Letters
Saturday, August 12th, 2017
When I was a child, my mother told me that she was reincarnated from an Egyptian. Later, I taught Egyptian history. Then, in 1989, an invitation came to live and work in Egypt as a State Department Envoy—my dream assignment. We lived in the wonderful country from 1989 to 1991, then returned over the next two decades for months at a time. With these experiences, we learned to treasure the country and its people.
From these experiences, the saga and journeys of anthropologist Justine Jenner were born and took form in The Justine Trilogy in the historical novels The Cairo Codex, The Italian Letters and A Rapture of Ravens: Awakening in Taos. These novels begin with the lead up to the revolution and end with the election of President Morsi, a prominent member of the Muslim Brotherhood.
One cannot engage in such research and writing without being fascinated by the compelling story of a group such as the Brotherhood that began in 1928 to resist British colonization, played a violent role during WWII and the 1952 revolution, influenced Middle Eastern radicalism, rose to prominence and the presidency, then suffered a coup and fell into disgrace and terror.
What a roller coaster ride! The future is difficult to divine.
This is just the tip of the iceberg. Want to learn more? Read The Justine Trilogy.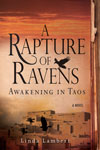 Posted in A Rapture of Ravens, Arab press, Egypt, Italian Letters, Muslim Brotherhood, political essay, The Justine Trilogy | No Comments » | Leave a Comment